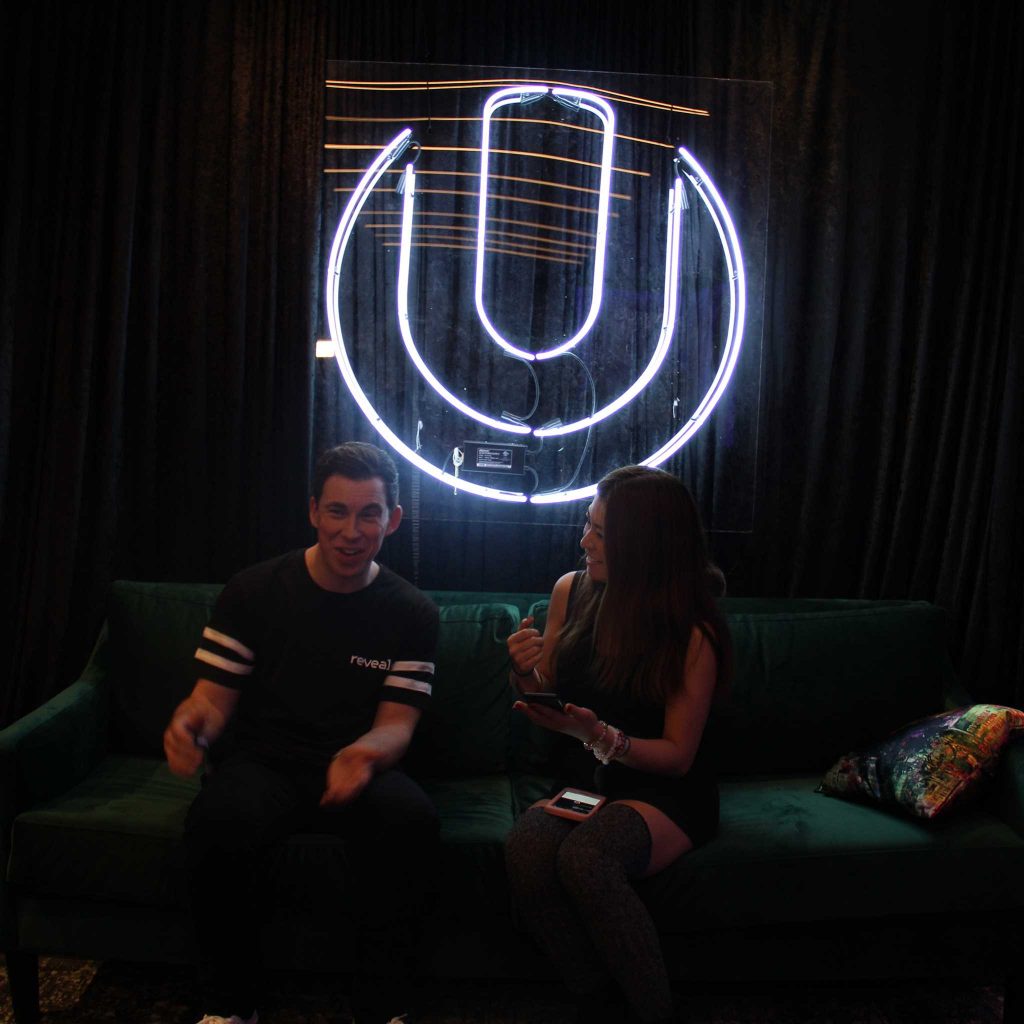 2017年のUltra Music Festivalでは、UMF史上初の360度映像ライブストリームを実現させたHardwell。
5/21にはWIRED MUSIC FESTIVALでの来日が決まっている世界的トップDJに、UMFのプレスルームでインタビューしてきました。

_去年のUltra Japanでプレイして、今年も日本でプレイする予定ですが、大勢の日本のファンの為にプレイするのはどんな感じですか?
Hardwell「2014年の前から日本でプレイすることが僕の願い事リストの中の一番の候補だったんだ。いつも日本に行ってプレイしたいと思っていたから、やっと日本に行けた時は本当にハッピーだったよ。本当に本当に日本が大好きなんだ。だから日本に行く度に最高な時間を満喫していて、日本に今年また行くことが待ち遠しいよ」
_日本でツアーをしている時に、日本で何をすることが好きですか?
Hardwell「実の所、忙しくて日本でゆっくりと時間を過ごせたことがないんだけど、今年日本に行ったら、1週間位ステイしようと思ってる。日本は世界の色々な場所とは違う感じでユニークで、街からはインスピレーションを得られるし、 日本人はとてもナイスだから、時間があれば外に出てエンジョイしたいよ。それに、僕は日本食の大ファンだから、日本の食べ物をチェックしたい。あ、あと勿論ナイトクラブにも行きたいな!」
_あなたのRevealed Recordingsからリリースされた、日本人とブルガリア人のニュープロジェクトENGMNTの新曲 "Never Gonna Miss It" についてどう思われますか?
Hardwell「もちろんこの曲が大好きだよ! じゃなきゃRevealed Recordingsにサインしないでしょ!? このレーベルでは様々な音楽のスタイルを探していて、この曲を初めて聴いた時から僕の注目の的だったよ。このレコードをうちでサインできて超ハッピーだよ!」
_日本のファンへのメッセージをお願いします。
Hardwell「僕の日本のファンの皆さん、僕が本当に真に日本が大好きだってことを知っておいて欲しいな。日本にまた行けることが待ち遠しいよ! パーティーをまた皆できることを願ってるよ。とにかく、日本にもう少しで行くからね!」
_人生においてのベストなアドバイスは何ですか?
Hardwell「いつも言っているけど、何か夢を持てれば、絶対それができる! どんなことでも、一生懸命その夢の為に頑張って専念すれば、僕は何のどんな夢でも叶い実現できると思っているんだ。夢を実現するには、ハードな作業や仕事をしないとだけれど、自分のハートの直感を追って自分を心の底から信じていれば、できるよ。頑張って!」
interview:Risa Clark
Hardwell Live at Ultra Music Festival Miami 2017
_You played at Ultra Japan last year and I know you are scheduled to play in Japan again this year, how do you like playing for your many fans in Japan?
Hardwell "Well, Japan – before 2014 – it was like my #1 thing on my wish list. I always wanted to go to Japan and perform there so I'm really happy that I'm finally able to go to Japan and every time when I'm in Japan I really have a great time. I really love Japan, I truly do, and yea, I can't wait to go back this year."
_What are some of your favorite things you like to do in Japan while you are there on tour?
Hardwell "Ah – well actually, I never spent that much time in Japan and if I come to Japan this year, I'm gonna spend like a week there. But like the city itself, its so inspiring, its so different than any other place in the world. People are super nice. So I definitely want to just go out (when I have time to enjoy there) – I'm a big fan of the Japanese food so I'm definitely gonna check out the food there and yea the clubbing of course!"
_ENGMNT, a new collaboration project between Japanese and Bulgarian, just released a new song called "Never Gonna Miss It" on your Revealed Recordings label – how do feel about the song?
Hardwell "I love this song! I mean, of course, otherwise it wouldn't be signed to Revealed! With the label we are looking for different music styles. This is definitely one of the tracks that really got me from the very beginning, so I am really happy we signed the record!"
_What message do you have for your Japanese fans
Hardwell "To all of my Japanese fans, I hope you guys know that I really truly love Japan and I can't wait to be back! And, I hope that we party soon again! And yea, I will be back soon!"
_At this point in time, what is the best life advice you have to give?
Hardwell "I always say if you can dream it you can do it! No matter which thing you want to achieve in life, if you work really hard and you are really dedicated to achieve something, I think basically everything you can dream of is possible. It's just a lot of hard work, and, you know – if you really truly believe in yourself, just follow your heart and go for it!"